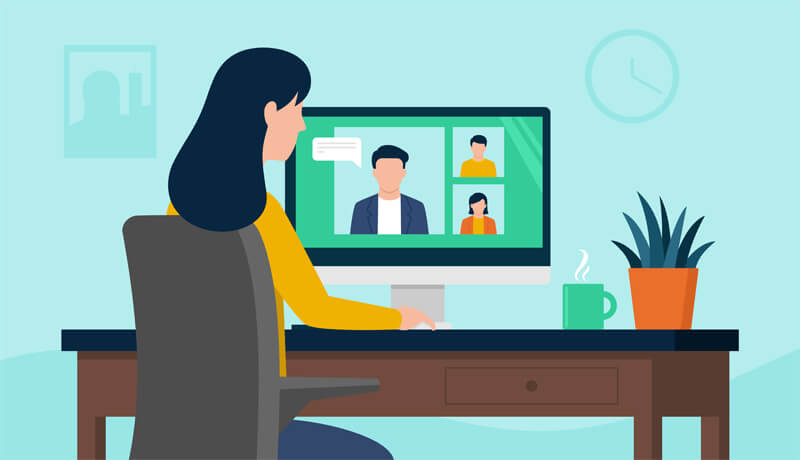 The current lockdown has seen an unprecedented take-up of remote meeting technologies for both our professional and personal lives. The 'online meeting revolution' has swept nearly every country affected by the global pandemic. Even people who would not usually use video conferencing have found themselves comparing the relative merits of various solutions. It has also given rise to various misconceptions and myths on one of the biggest trends of 2020. Here we separate fact from fiction to expose some of the most common remote meeting myths we've encountered.
Myth #1 – Face-to-face meetings are always better than remote meetings
Sometimes in-person meetings are necessary, but not always. With an increasing amount of companies looking to reduce business travel, remote meetings provide a viable alternative.
But for virtual meetings to be an acceptable substitute to face-to-face meetings, companies need to ensure the right technology is available to employees. Having a remote meeting software that combines screen sharing, video and high-quality audio with a simple interface, can make remote meetings just as effective as in-person meetings.
Myth #2 – Remote meetings are a painful experience
It's 9:00am and your meeting hasn't started because your client is waiting for the software download to finish before they can join. The client enters the meeting, but they are inaudible and suddenly the call drops due to connectivity issues. It has become all too commonly accepted that conference calls are a painful experience and that a fair portion of your time will be wasted during them. But it doesn't have to be that way. Look for a remote meeting software that doesn't require downloads for guests to join and which doesn't rely on public internet to carry audio for increased reliability. This will minimise disruptions to your meetings.
Myth #3 – Every online meeting should be a video call
With more and more people reporting 'video conferencing fatigue' – tiredness and frustration associated with spending too much time on video conferences – it's time to consider which meetings actually benefit from the use of video. For example, with job interviews and client sales pitches the visual elements are important. But in a meeting where one person does most of the talking, it may be better to leave the camera off or only have the presenter visible. Consider using a remote meeting software that allows you to start the meeting with audio-only and then to add video if necessary.
Myth #4 – Client meetings should be treated the same as internal meetings
A very common remote meeting misconception is that what may work for internal meetings will also work for external meetings. This is not always the case. Remote meeting tools for external calls should be simple to use. In some instances, your guests will be unfamiliar with the solution or will be using it for the first time. Tools that do not require software downloads will also make it easier for your guests to join the meeting. When it comes to important client meetings, you need a remote meeting platform that guarantees audio reliability. Asking guests to repeat themselves or having to restart the call because of a dropped connection wastes time and can leave a negative impression.
Myth #5 – All conferencing solutions are the same
Selecting a conference call platform used to be relatively simple. There were few vendors and most services worked in broadly the same way – guests would dial in for an audio-only experience using an access number and PIN. Today, of course, we see a very different picture. You have basic dial-in conferencing solutions, unified communications, collaboration platforms, and video conferencing. Each type of solution offers a different set of features and benefits. While this opens up more choices for buyers, it makes the task of choosing the right solution for your business significantly more complex.
Myth #6 – The more features, the better the meeting experience
It might look appealing to choose a remote meeting software with the most functionalities, but the endless list of features can add additional layers of complexity that waste time and can scare away users. Either your users will avoid using the solution altogether because it's too complicated to use or they will just make use of the very basic functionalities. In this case, you run the risk of paying for features that your business will never utilize. Instead, focus on features that are critical to your meetings e.g. screen sharing, video, security. Select a solution that meets those requirements and does it well.
Myth #7 – Audio quality on a virtual meeting is always poor
The problem with a lot of web conferencing platforms is that they use VoIP to carry audio, sending packets of data over the internet. Any loss of packets leads to 'jitter' – words are jumbled or missing altogether. This is a particular problem when users don't have sufficient bandwidth. The best way to avoid this scenario is by using a remote meeting software that routes all calls over regular phone lines and only use the internet for screen sharing and video. This will always deliver 100% audio reliability.
Myth #8 – Implementing a conferencing solution is a large undertaking
Company-wide unified communications strategies can take anything from several months to several years to implement, especially if you are replacing all your existing systems. But if you are looking for a best-in-class solution, you don't have to rip and replace what you already have in place. You can simply add in a better solution to your existing technology stack. LoopUp, for example, can be deployed across large enterprises in less than 24 hours with no set-up cost, no minimum contract and no user training required.
Myth #9 – Remote meeting software is expensive
Conferencing doesn't need to be expensive. Different remote meeting solutions offer different pricing models. Some vendors offer license-based pricing which varies depending on the number of users you have. Other vendors offer pay-as-you-go pricing, so you only pay for the conferencing minutes used and not for the number of accounts or licences. The most cost-effective solution will depend on how many people in your organisation use the solution and how often. Vendors may also bundle certain features into the base price but charge additionally for others, so be sure to know exactly what you're paying for. In the first instance, you need to research the alternative options and establish which one is right for your business.
Myth #10 – One solution will work across your business
It might be easier to implement one remote meeting software across your company, but it won't always be suitable for everyone. Different teams have different requirements. Your recruitment team may need video for interviews. Your sales team may need a premium solution designed for external guests. Your trainers may need webinar and Q&A functionality. Some team members will only host internal calls, and some will not use any conferencing tools. You won't always find a 'one-size-fits-all' solution and sometimes it can be helpful to have more than one tool to cater for all your teams.
Virtual meetings have become a crucial part of day-to-day business life for many organisations and having the right technology is essential. We hope this list gives you a clearer understanding of the options available to you when it comes to remote meeting software.
About LoopUp
LoopUp is used by over 5,000 organisations around the world for better, more productive remote meetings. Contact one of our specialists to find out more about LoopUp's approach to video conferencing, or experience LoopUp for yourself with our Free Plan.