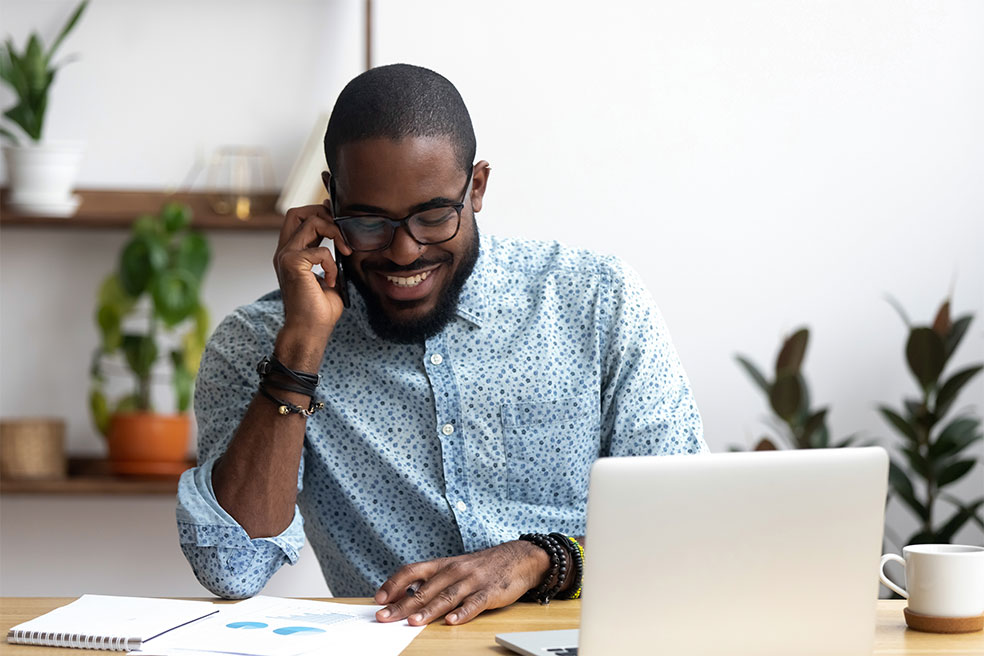 As governments across the world have placed their citizens on lockdown to curb the spread of Covid-19, organisations have had to rapidly adapt to large-scale working from home. Many IT teams have been asked to support hundreds of remote workers overnight. In these extraordinary times, LoopUp's number one priority has been to ensure all our clients are fully supported in their transition to remote working. Our teams have been working tirelessly to help with any request from clients, big or small. In this blog we acknowledge some of our team's remarkable achievements of the last few weeks.
Helping organisations prepare for working from home
Many companies have had to adapt on the fly and introduce new technologies and processes company-wide very quickly, making planning, preparation and communication a challenge. At LoopUp, we've helped many businesses roll out our product in a very short time frame.
One global law firm had been a client of ours for a while but only half of their workforce were set up with accounts and were actively using LoopUp. The rest of their employees did not require a remote working solution. As the prospect of large-scale remote working became inevitable, the firm made a decision to set everyone up with a LoopUp account.
They asked LoopUp to activate 1,000 new users across all their global locations on a Friday so they could be ready for company-wide working from home on the following Monday. LoopUp had to work with the firm's IT team to get a list of names, emails, phone numbers and job titles of all 1000 employees. LoopUp then set them up with accounts, centrally deployed the LoopUp for Outlook app, configured single sign-on, sent out user activation emails and hosted a live 15 minute training session, all in a matter of hours.
A British defence technology company needed a reliable and simple to use conferencing solution to prepare for remote working, but they didn't have a lot of time to get it set up. Their IT team was swamped with other tasks they needed to carry out ahead of company-wide working from home. They did not have the time to get everyone in the business set up with a remote working tool. When they reached out to LoopUp, we offered them a simple solution. Their employees could all activate their own LoopUp accounts without the IT team needing to get involved. Using a simple LoopUp form, users were able to create their accounts within a matter of minutes. The LoopUp team also offered all the users a quick 15-minute demo of the product and they were ready to go. The employees found the product so easy to use, they didn't even ask their IT team for any help.
Providing absolute confidence to hosts on really important calls
There is nothing worse than your remote meeting technology failing to work right before an important meeting. One firm experienced this 30 minutes before an all-hands call with their 100 partners. They were having problems with their existing platform and could not get on the call. The IT Director decided to try a different solution. He reached out to LoopUp to see if he could use our platform for the meeting instead. As he was a new customer, the LoopUp team not only set him up with an account, but also provided him with a quick demo of the product so he felt confident and prepared for the call.
For companies that have quickly rolled out a new remote meeting product, employees have had little time to get used to the new tool. Having a product that is simple to use is key for them. An IT Director at a US asset management firm needed to set up a call for his CEO to address 175 employees. He considered using another web conferencing provider but was concerned that the management of the live call, which included a Q&A, on behalf of the CEO would be too challenging. "We turned to the simplest most reliable solution in our arsenal: Loopup. Within 10 minutes everything was set up and tested. All the CEO had to do was speak and answer questions. We knew exactly who joined the call and the sound was clear", he added. The LoopUp account managers were able to train the IT Director on everything he would need to know for the call and made sure to do a test call so he could be confident that the meeting would run smoothly.
Priority support for organisations on the front line of the Coronavirus response
In order to help at this difficult time, we have been providing extra support for customers that are performing critical functions. Our operator-assisted call service, Event by LoopUp, has been hosting a regular call for a key UK government department to discuss their strategy and response to the Covid-19 pandemic. The Event by LoopUp team helped the client prepare for the meeting by running several test calls and providing on-call management and support. The client was able to focus on their important work whilst all parts of the call were managed by our team.
LoopUp is also fully committed to assisting the NHS at this incredibly challenging time. We are providing our remote meeting service to a number of NHS organisations during the Coronavirus outbreak. This is particularly important at a time when the hardworking doctors, nurses and support staff across all parts of the NHS rely even more heavily on the collaboration tools to carry out their vital work.
LoopUp is in a unique position to help our customers, their employees and our communities during this time. As a result, we are making it a top priority to do all that we can to help our customers focus on the health of their employees and their business, while also helping the critical service providers who are on the front lines. We don't know how long we'll be working remotely, but what we do know is that there is a massive value in staying connected during this time.