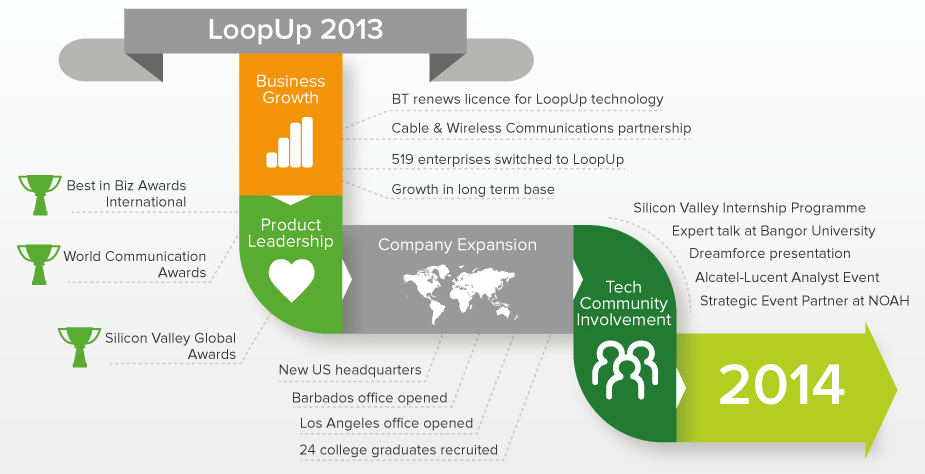 As 2014 gets into full swing, I wanted to take a moment to look back on 2013 and its highlights for LoopUp. 2013 was happily a very busy and progressive year for us in a number of respects: business growth, product leadership, company expansion, and our ongoing involvement in the tech community.
Business Growth
The year kicked off at pace with a multi-year licence renewal by BT of LoopUp technology, originally put in place in 2009. Hot on its heels in February was another major distribution partnership with Cable & Wireless Communications in the Caribbean (LIME), which has since turned into a region-wide launch of the LoopUp product under the LIME Conferencing brand.
Our direct enterprise business also maintained its rapid growth, driven by a combination of strong new business acquisition and the continued loyalty of our long-term customer base. During 2013, 519 enterprises switched their conference calling user bases over to LoopUp for a less painful conference experience. And in our long-term base, we actually saw negative net churn (i.e. net growth). We're especially proud of this in a market which is so fiercely price-competitive and which has, prematurely in our opinion, become perceived as a commodity sector. It endorses our product-led strategy, which leads me to my next point.
Product Leadership
LoopUp is all about making everyday conference calls and online meetings less painful, more secure and more productive, without compromising on ease-of-use. We compete in the market on the basis of our differentiated product and, as such, continued innovation is fundamental to our success.
2013 saw plenty of enhancements to the LoopUp product. Perhaps most significantly, our market-unique screen sharing capability came out of beta and into full production release. This enables a LoopUp conference host to share their screen with guests in a single click, at any time during any conference call. It takes web conferencing to a whole new level of accessibility and usability. We also extended our app suite to include a browser invite tool for non-Outlook users, added a new set of user management capabilities for account administrators, introduced support for monthly licence contracts in addition to our established pay-as-you-go pricing, and much more.
Our product received further recognition: we won Gold in Best in Biz Awards 2013 International; we were runner-up to Orange Business Services for Best Enterprise Product at the World Communication Awards 2013; and we were also a finalist at the Silicon Valley Global Awards. In all of these cases, our product was praised for standing out from the competition in the enterprise collaboration space.
Company Expansion
We've expanded every year since our market launch, and 2013 was no exception. We opened two new offices: one in Barbados to support our regional partnership with LIME, and one in Los Angeles to expand our West Coast presence and support our existing and new southern California customers. We also moved our US headquarters to a new, larger space in downtown San Francisco just down the road on 2nd Street. We significantly expanded our team, including an intake of 24 new graduates from UK and US universities.
Involvement in the Tech Community
Perhaps most significantly here, my co-CEO, Michael Hughes, founded the Silicon Valley Internship Programme, which offers recent UK computer science and software engineering college graduates a year's experience in Silicon Valley, with the aim of their taking this know-how and attitude back to the UK. We hope this will contribute to the UK tech scene and inspire entrepreneurialism. SVIP attracted a high volume of top calibre applicants and great sponsoring Silicon Valley companies (including LoopUp, of course) offering spaces for interns. The scheme has been a great success so far and we're looking forward to expanding it with the 2014 intake.
We were a strategic event partner at NOAH London 2013, which unites Internet CEOs, executives and investors. Our team also continued to get involved in a number of technology events: Robert Baugh, our General Counsel, presented at Bangor University School of Law on his varied career and life as a tech lawyer in Silicon Roundabout; Jana Rhyu, our Senior Manager, Marketing & Sales Operations, presented at Dreamforce on strategies for data management; and I had the chance to speak at the Alcatel-Lucent Enterprise 2013 Analyst Conference, sharing our views on cloud collaboration.
In Summary
2013 was a year of tremendous success and growth for LoopUp. Of course, that wouldn't have been possible without all of the hard work from the LoopUp team across our global offices, and all of our customers and partners. A heartfelt thanks for all your support, for which we are extremely grateful.
And so to 2014, our biggest year yet.
To stay updated, follow us on Twitter, LinkedIn and Facebook.