A premium meeting experience
Constantly asking who just joined. Distracting background noise. Problems sharing content. We believe your important, daily remote meetings have been painful for too long. LoopUp offers a better experience that won't slow you down.
An exceptional experience
No training required, LoopUp is intuitive, streamlined and anticipates your needs.
For the enterprise
Always putting quality first, LoopUp offers the reliability and security required by today's global enterprise.
That works where you work
LoopUp easily integrates with the common tools you already use every day.
Focus on what's important
Whether you're negotiating a multi-party deal or collaborating with colleagues around the globe, LoopUp keeps you focused on the business at hand, not on the meeting.
Seamless invites and meeting entry from tools you already use
Conversations enriched with context and control
One click to guide your guests to richer collaboration capabilities
Why LoopUp?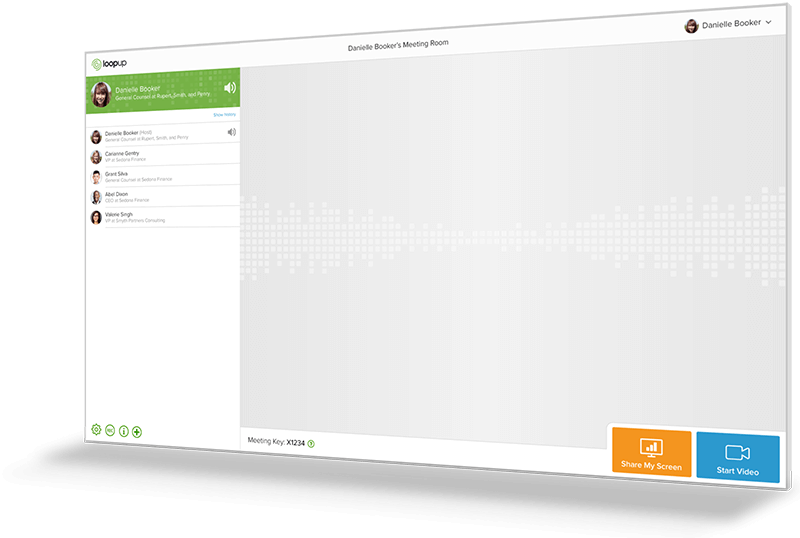 Each year, businesses spend a total of 163 billion minutes in remote meetings.
On a typical meeting, 15 minutes are wasted getting the meeting started and dealing with distractions.
That's more than $34 billion of wasted time value, every year.
It's about time
How much time do you waste fumbling for dial-in numbers, dealing with background noise, or asking 'who just joined?' and 'can you see my screen?' Let's look at the numbers.
Learn more
"Not only does LoopUp ensure that we deliver the best conference call experience for our users no matter where they are, it also provides a level of security and confidentiality that is critical to our business."
Carolyn Lees, Global IT Director, Permira Advisers
"LoopUp has far exceeded my expectations, a global service that is convenient, quick and intuitive, this has made conferencing a whole lot easier for all users."
Ian Stewart, Telecommunications Specialist, Travelex
"LoopUp was an obvious choice for us for a number of reasons, most importantly, we're getting a better product for the price. It's simple to use, and the visual interface is clean and user-friendly."
Hilary Grieve, Corporate Administration Manager, Kia Motors America
"LoopUp is the best tool, and for some maybe the only tool, they use to connect multiple people around the company. Screen sharing is superb and I see many people using it regularly."
BMJ
"LoopUp has changed our organization's mind on conference calls. It is simple to use yet slick, stable with fantastic customer service."
Michael Walsh, Global Markets COO, Allied World Assurance