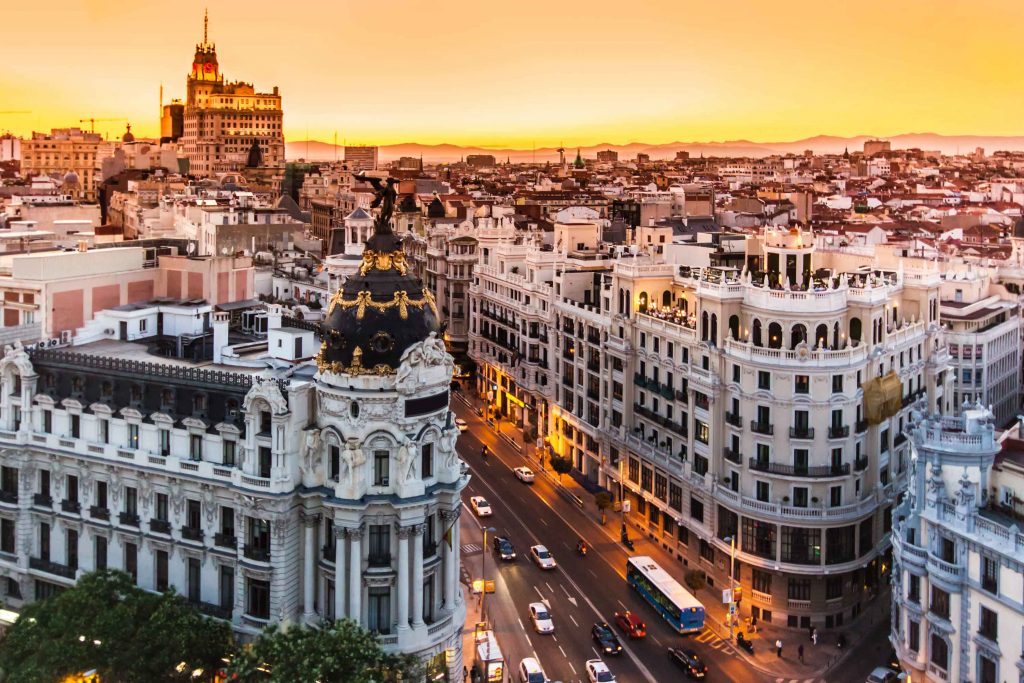 Last year, LoopUp expanded its global reach into the Spanish market by opening an office in Madrid. Since February, the team have been growing their activity in the region and educating organisations on how to improve the quality of their conference calls. LoopUp now serves over 5,000 clients worldwide with offices in the US, UK, Spain, Germany, Sweden, Hong Kong and Australia.
Strategic Location

Our Spanish team are ideally located in the heart of Madrid's financial centre, amongst a community of large financial and legal firms. Madrid is distinguished as the most competitive financial centre in Southern Europe and is home to the headquarters of major Spanish banks including Santander and BBVA. Last year, Madrid jumped 18 places in the Global Finance Centers Index. The city's financial sector has become more international and diversified with Credit Suisse and Citibank moving jobs from London to Madrid.
Madrid is quickly establishing itself as a financial hub – making it a promising next step for LoopUp. LoopUp has a strong professional services client base so Madrid was an ideal location for our team to get their teeth stuck into. Since the Madrid office opening, one of the region's largest law firms, Eversheds Nicea, have selected LoopUp as their conference call provider
The Team
Our Spanish team is headed up by Kate Godwin – Senior Director of European Sales. Kate has been with LoopUp for almost ten years and has thorough knowledge of the legal and financial markets. During her time at LoopUp, Kate has managed both UK and US sales teams from LoopUp's London and New York offices. Kate is now bringing her expertise to the European market.
The wider team follows LoopUp's pod structure and is made up of six Business Development Associates, three Sales Executives and one Account Manager. The group are incentivised on a team basis and work together as one unit together towards a common goal. The team come from very different backgrounds but all share a common belief – the importance of communication in driving better business outcomes. Among the group is Eli – a former TV presenter, Flor – teacher and Nacho – a semi-professional basketball player.
Activities
The team have been busy driving awareness of LoopUp in the Spanish market through a range of activities. In November, LoopUp sponsored ELTAcon – the annual conference of the European Legal Tech Association. Held in Madrid, the event featured thought-provoking talks and discussions from renowned experts on legal innovation, digital transformation and legal tech. The Spanish team spent three days learning about decision makers' priorities, topical issues, and how best to address them.
We also hosted a series of Executive Networking Lunches in Madrid throughout the year. The aim of the lunches is to bring IT Directors together from a range of industries to discuss their challenges and learn from each other's experiences. Thank you to everyone who attended for making the lunches a huge hit!
Overall it has been a very successful year for the Spanish team and we look forward to all the exciting things we have planned for 2020! To stay in the loop, make sure you follow us on Linkedin, Facebook and Twitter for all our latest news.
Fancy Joining Us?
We're always on the lookout for bright individuals to join our team. Got a flare for Sales or Account Management? Fancy a change? Visit our careers page for new opportunities across all our offices!
The LoopUp Group
At LoopUp, we understand that your client conference calls really matter – all of them. LoopUp ensures a simple, seamless user experience and reliable audio quality without compromise. Over 5,000 clients worldwide trust LoopUp with their remote meetings. You'll find us in 15 global office locations, working around the clock to help firms unlock the true potential of conference calls.

Sign up for a LoopUp Free Plan now >>