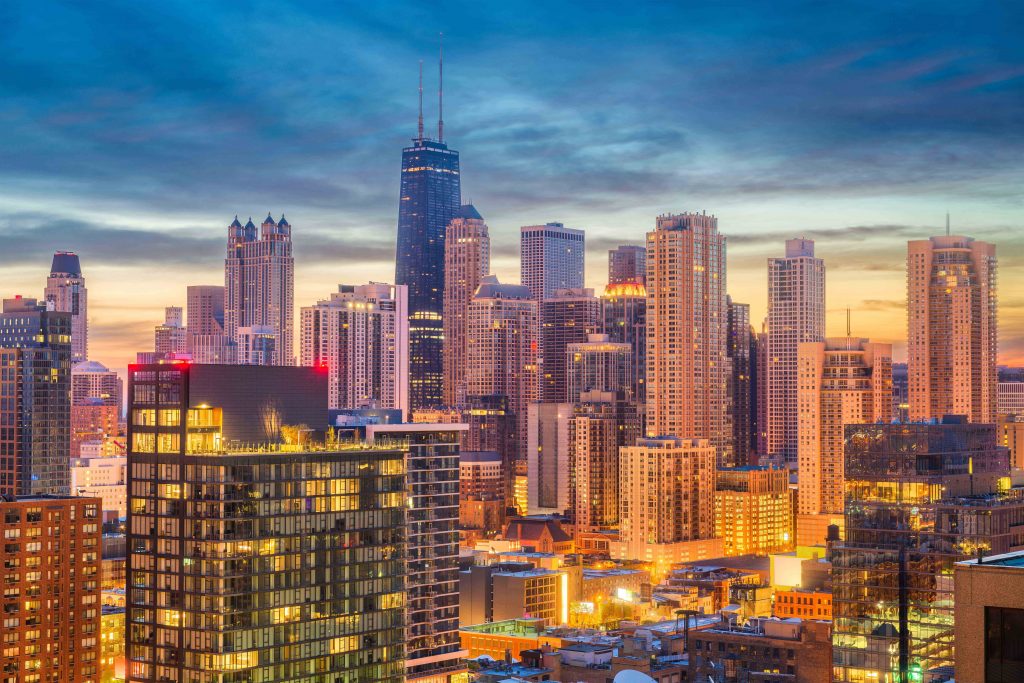 LoopUp's new Chicago office is the third to open its doors in the US this year. Extending our reach in the US market, LoopUp's latest addition is ideally located in "the Loop" – central to Chicago's largest enterprises such as Walgreens and Boeing, and steps away from the cultural district.
Eclectic Location
"The Loop" has been dominated by skyscrapers and renowned for its dynamic architecture since early in its history. Following the Great Chicago Fire in 1871, the majority of "the Loop" was destroyed, and rebuilt quickly to become what is the second largest commercial business district in the US today.
Situated in the heart of "the Loop", our Chicago team find themselves in a space that combines a vibrant mix of culture and business, from tech start-ups to consulting firms and everything in between. Home to 36 Fortune 500 companies, opening an office in Chicago was a natural next step for LoopUp. In 2017, the global conference call market was valued at US$ 8.4 billion with the North American region being the largest contributor to the industry.

The opening of the Chicago office is part of LoopUp's international expansion programme this year, a result of the company's strong performance and an increasing demand for conferencing solutions that deliver on audio reliability and offer a simple user experience. Other LoopUp offices that opened in America this year include Dallas and Los Angeles, and our Chicago team cover the broad expanse of Illinois, Indiana, Wisconsin, Ohio, Iowa, Kentucky and Missouri.
"Chicago is a hotbed of business, technology and innovation that continues to expand and attract world-leading companies" said Steve Flavell, CEO and Co-Founder at LoopUp. "These businesses all need more productive ways of communicating with their clients and colleagues. By establishing a physical base in Chicago, we hope to help organisations in the area deliver a world-class meeting experience on every conference call."
Meet the Team
The new office followed completion of LoopUp's three-month intensive global training programme – 'Pod Academy'. This programme was aimed at more experienced individuals who were looking to make a career change into commercial sales or account management. The team were flown out to our London headquarters for training on the sales process and management structure, followed by final assessments and graduation from the academy.
The Chicago pod is made up of eight members and follows LoopUp's pod structure that is central to the way that we conduct new business acquisition activities. Each pod typically comprises four business development associates, three sales executives and one account manager who work together as one unit towards a common goal.
Chicago's Pod has three international born team members – Doug from Belgium, Vanesa from Bosnia and Clark from Australia. There are also some division 1 athletes including Andi that played lacrosse for Towson, Maggie that ran cross country at Marquette and Cody that has helped deliver over 1,000 piglets…if you can count that as a sport?
The Pod have big goals and big personalities, and are excited to help LoopUp excel even further into the US market! They will be responsible for delivering support to new and existing customers and consulting professional services firms on their conference calling strategy.
The LoopUp Group
At LoopUp, we understand that your client conference calls really matter – all of them. LoopUp ensures a simple, seamless user experience and reliable audio quality without compromise. Over 5,000 clients worldwide trust LoopUp with their remote meetings. You'll find us in 17 global office locations, working around the clock to help firms unlock the true potential of conference calls.
Want to join us? The LoopUp team is growing and always on the look-out for talented individuals! If you are interested in working for LoopUp, please check out our careers page for new opportunities.
To learn more about LoopUp, please get in touch.