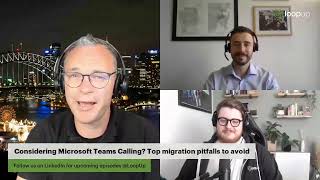 Watch our LinkedIn Live: Talking Team's webinar which goes through how to avoid planning mishaps that can delay your Microsoft Teams Calling rollout.
The top migration pitfalls we'll be discussing include:
Not shopping around; understand if your next gen telephony needs are being met by your legacy vendors.
Having gaps in your deployment planning; number porting, device strategy and Teams configuration.
Not thinking long-term; think about what levels of ongoing support you may need post deployment.