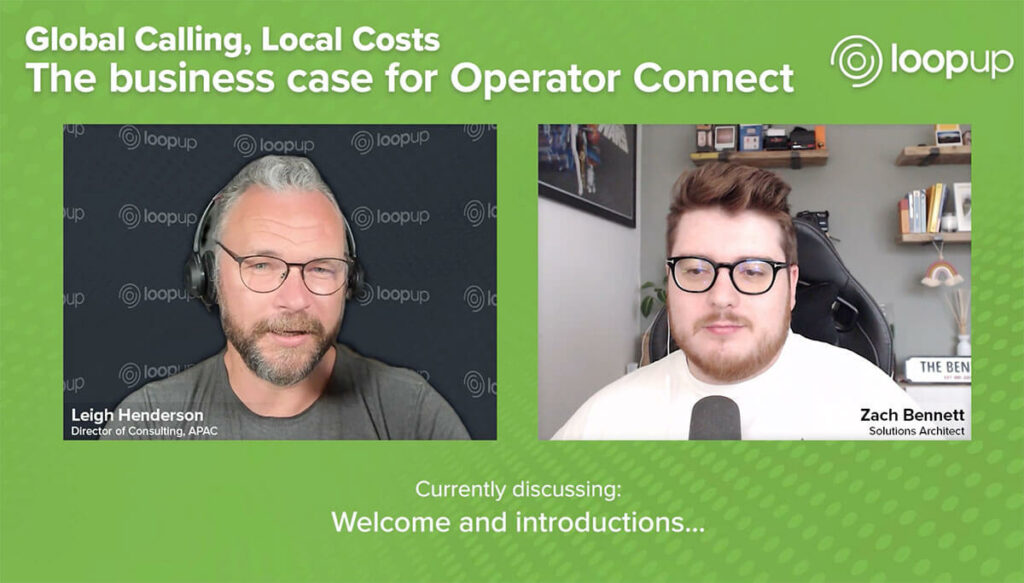 Global organisations require solutions that will fit with their business, even when it comes down to their phone system. LoopUp's Leigh and Zach dive into the business case for Microsoft Teams Phone and help you understand the best way to take advantage of Microsoft Teams global presence and the operational, cost, and productivity benefits that choosing the right provider can bring you.
This webinar starts with a discussion around the challenges of not using a single solution across your business. Having multiple solutions means that multiple contracts and support mechanisms need to be in place to support your solutions. This means having to keep track and manage all these relationships and providers can cause confusion and added complexity to your solution. The lack of global visibility of your solutions is also a challenge meaning you must go to separate providers and collate information to see a global view of your usage and spend across the business.
There are several benefits to having a single solution such as Microsoft Teams Phone with Operator Connect with LoopUp, and these include having a single global provider for your phone system across the whole of your organisation no matter the location, having access to a global management portal which would allow you a single pane of glass view to your spend and usage globally, global support team who work for the same provider and understand your business requirements inside and out, and also a global pricing tariff which will allow you to optimise global spending across your organisation.
Forrester published a reported named: The Total Economic Impact™ Of Microsoft Teams Phone, this reports aims to highlight the cost savings and improved collaboration for enterprise and SMB organisations when they adopt Microsoft Teams Phone. Leigh and Zach spend some time discussing this report in more detail and the benefits outlined from Forrester in this report. LoopUp have also released a blog exploring this report in more detail and what led to ROI's of ~145% and a payback period of 6 months.
Customer experience is invaluable information to use when you are looking to complete a migration, knowing that a previous customer had similar queries to your business needs and have been addressed is key to having confidence in your provider and solution. LoopUp draw from an experience with a customer that condensed their telco vendors from above 20 providers down to 1 with LoopUp. Zach discusses his experiences with this customer from Proof of Concept to production roll-out globally as they saw the benefits of migrating to Microsoft Teams at a global scale and saw that payback grow exponentially as they moved countries to a global solution with LoopUp as their existing telco contracts came to an end.

A global solution with the right provider can benefit your organisation massively the flexibility, cost saving, management, and expertise they can offer. If you'd like to reach out to learn more how LoopUp could assist you in migrating to Microsoft Teams Phone with Operator Connect reach out today.
See our Operator Connect Coverage here.