Host video conferences that are as effective as face-to-face meetings
As remote working becomes the new normal for many, an increasing number of meetings take place as video conferences. Businesses need more meeting rooms equipped with technology that allows employees to communicate effectively with customers and colleagues, wherever they may be.
But until recently, video conferencing suites were expensive to install, inflexible and complex to use – not to mention inaccessible to most employees. LoopUp Rooms is a simple, cost-effective solution that converts regular meeting rooms into video-enabled spaces, making remote meetings more engaging, productive and secure for everyone.
Optimise every meeting room for video conferences with LoopUp Rooms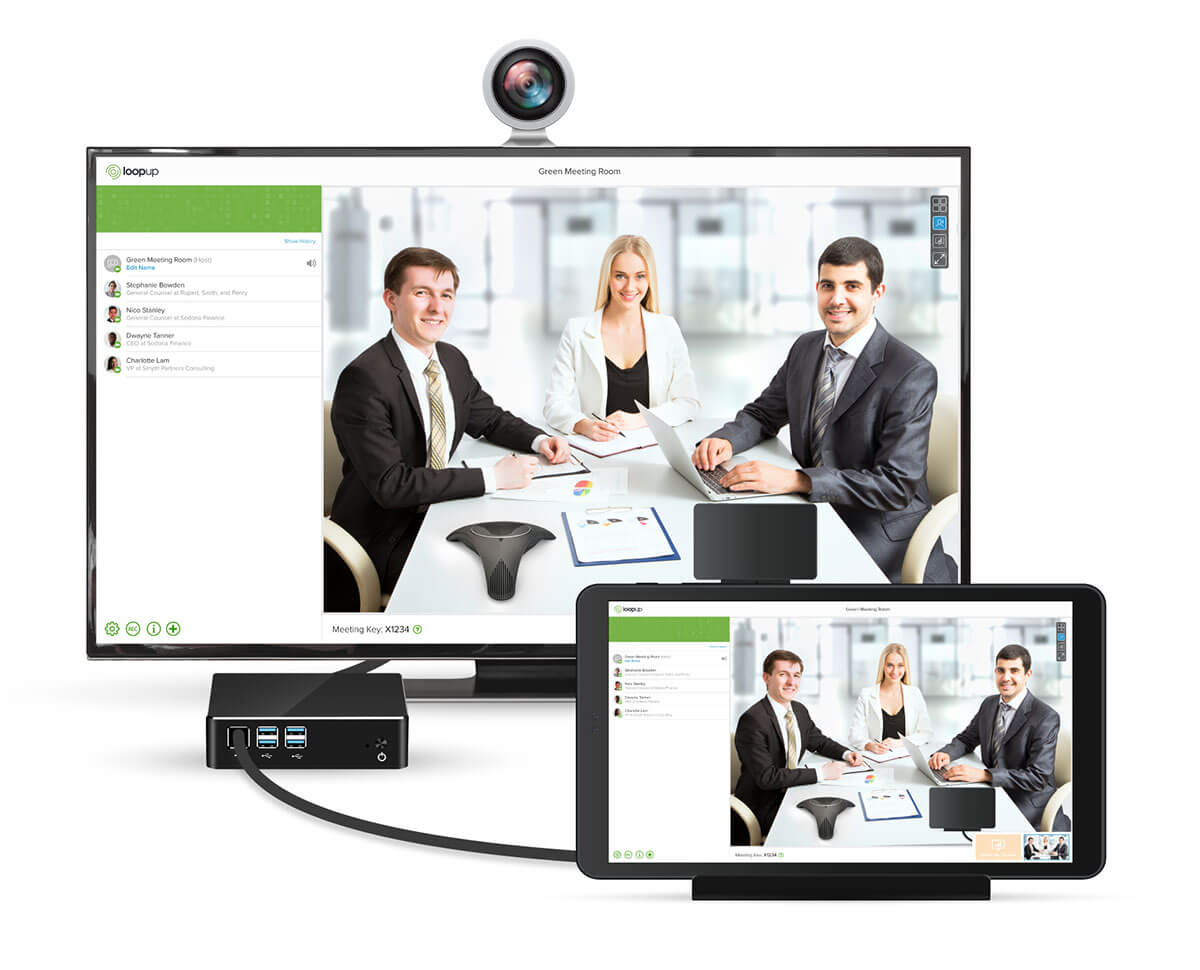 LoopUp Rooms use off-the-shelf hardware components that can be sourced from your regular IT supplier. And they're simple to set up – LoopUp Rooms is browser-based, so there's no custom software for you to install.
LoopUp Rooms connects these components together:
A large display screen to see other guests and content that's being shared
A web camera that captures everyone in the room so other guests can see you
A mini PC to access LoopUp meetings through a regular web browser
A touchscreen controller for users to join and control their meeting
A conference room phone for reliable, high-quality audio at all times
It takes just a few minutes for your IT team to turn a regular meeting room into a video-enabled LoopUp Room – and you're ready to host your first video conference!
An intuitive user experience for better, more productive meetings
A LoopUp Rooms meeting is as simple as a regular LoopUp meeting to book, join and manage – no training required! This means your meetings will always start on time, and it's easy to share content with guests in real time to make the meeting more productive.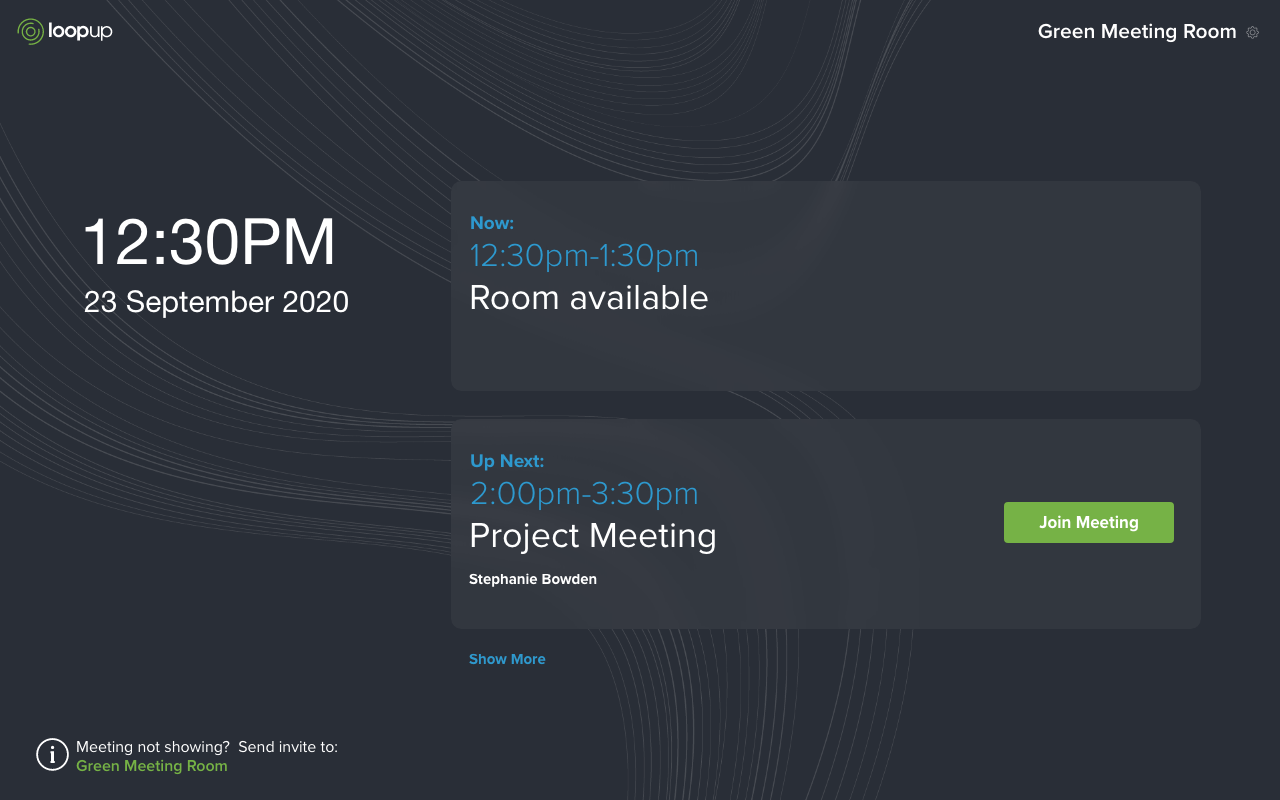 1. Book a LoopUp Room for your meeting

Just add the LoopUp Room to your LoopUp meeting invite. The meeting room will be booked for you in your office and your meeting will be added to the touchscreen controller calendar.

2. Join your meeting from the LoopUp Room

When you enter the meeting room, you'll see your meeting displayed on the touchscreen controller calendar. Use the touchscreen to join the meeting and the conference room phone will ring. When you accept the call, you'll be connected to the meeting.

3. Manage your meeting from the touchscreen controller

If you're the host, you can control the meeting just like a regular LoopUp meeting – add late joiners, mute background noise or record the meeting with just one click.

4. Share content with other guests

Join the meeting from your PC or other device and click 'share my screen' - no cables or downloads required. Your content will appear on the large display screen and will be visible to other guests.
Simple and cost-effective for IT teams to deploy
LoopUp Rooms use off-the-shelf hardware, making them cost-effective. A meeting room that already contains a display screen and a phone can be turned into a LoopUp room for as little as $1,400, depending on the hardware selected. And because LoopUp Rooms is browser-based, there's no custom software to install, making it possible to set up a LoopUp Room in less than an hour.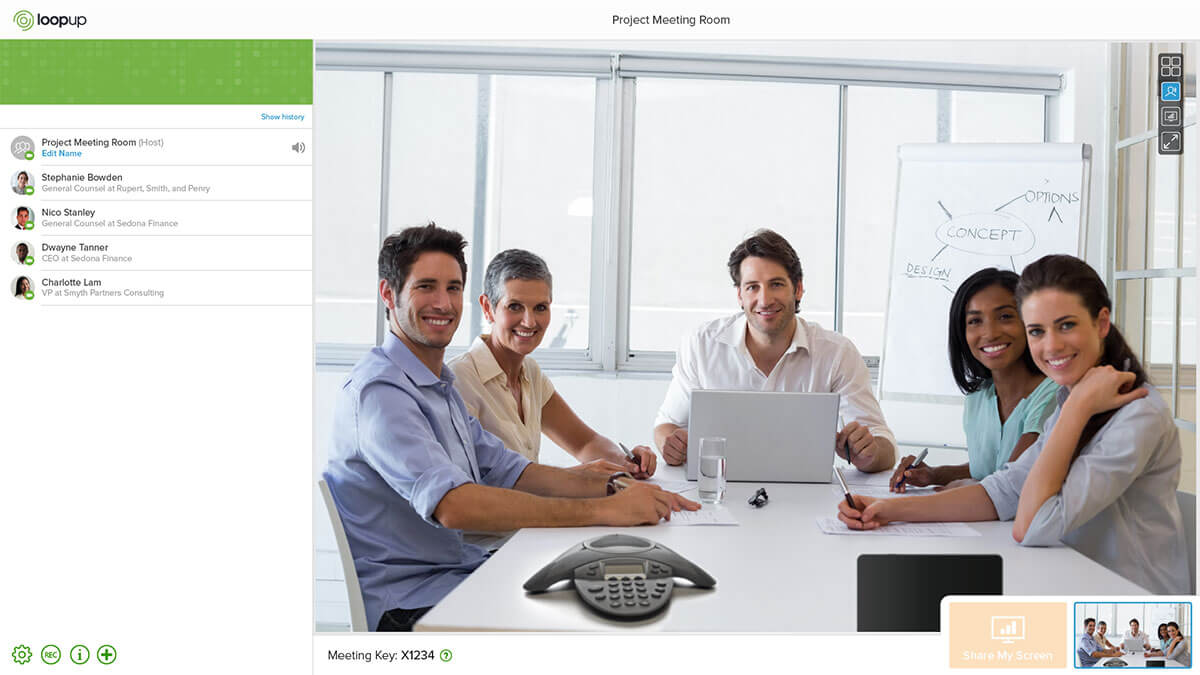 1. Source Windows-compatible hardware

Choose your display screen, web camera, mini PC, touchscreen controller and conference room phone using our list of hardware requirements at a cost that suits you, or use existing equipment.

2. Configure your hardware

Refer to LoopUp's simple set-up guide to get started. LoopUp Rooms runs on a web browser, so there is no custom software or complex installation required. It takes less than 30 minutes to configure the hardware for a room.

3. Create or locate a calendar resource for each LoopUp Room

LoopUp Rooms works with your Outlook 365 Calendar – just associate each LoopUp Rooms instance with a meeting room entity so that meetings are added to the calendar touchscreen controller in that room.

4. Activate your LoopUp Rooms

Contact LoopUp's customer support team to enable LoopUp Rooms for your account – and experience better, more engaged video conferences that your users will love