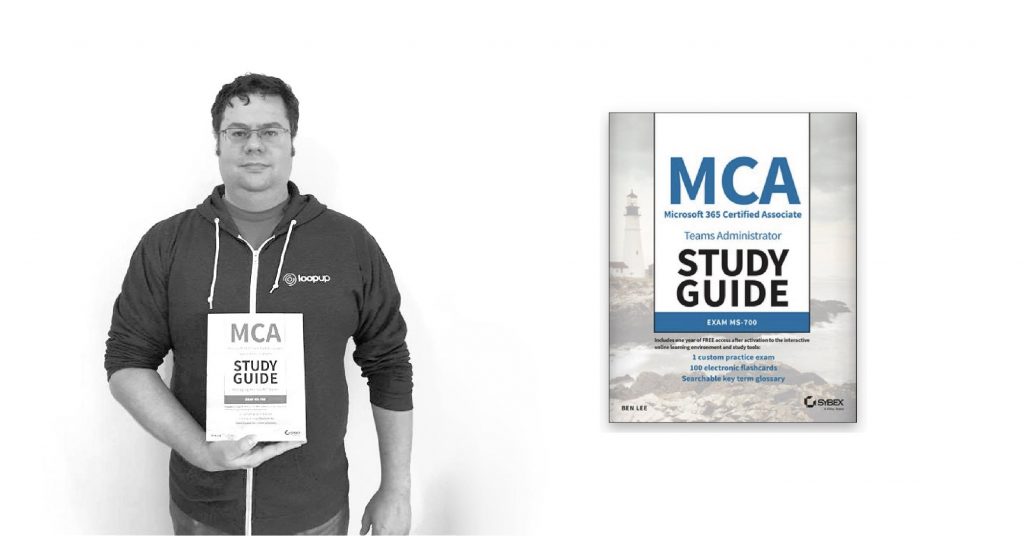 LoopUp's Ben Lee was approached to author a comprehensive reference guide for IT professionals wanting to pass their MS-700 certification exam.
What are the best practices for preparing your environment for deploying Microsoft Teams Calling? How should you configure Teams to give your users the best access to features while making sure access is secure? Which are the most efficient ways to monitor usage and quality? How best to understand the choices available for your organisation's PSTN calls?
LoopUp's Microsoft Technology Lead, Ben Lee, has authored a textbook deep diving into these very questions – and their explanations and answers.

How did the project come about?
Wanting to produce a best-in-class set of MS tools, publishers Wiley reached out to Ben through their Sybex imprint. Established in 1807, Wiley is a multinational publishing house with a focus on professional learning. They asked Ben to bring his years of Microsoft Teams expertise to creating a textbook for IT professionals looking to pass the MS-700 certification exam.
Ben's a unified communications specialist with impressive credentials. As part of his role at LoopUp he leads webinars and thought-leadership talks focussed on furthering Microsoft Teams knowledge and deployment. He was well-placed to take the reins on the project.

Who will benefit most from this textbook?
Microsoft Teams offers powerful advantage for IT departments wanting to streamline costs and complexity. With the pandemic, it was necessary for many organisations to deploy or accelerate their deployment of Teams in hurry. There is a lot that can be done to help make sure you are using it right and getting the most out of the platform and all of its functions and features.
'The materials here will help you pause, take stock and evaluate what you have done, what can be done and then continue to optimise to your best advantage,' explains Ben.

A study guide for IT managers wishing to master Microsoft Teams
For IT professionals, acquiring accreditation such as the Microsoft 365 Certified Associate Teams Administrator certification shows you're keeping pace with today's technology and user requirements.
Presented in a six-chapter structure, MCA Microsoft 365 Certified Teams Administrator Study Guide is a one-stop-shop with everything needed to pass the MS-700 certification exam with flying colours.
Ben guides readers through an introduction and background to Microsoft Teams, getting Teams up and running, core functionality and lifecycle management. Designed to build and test proficiency in the deployment, management and monitoring of Microsoft Teams features within the Microsoft 365 platform, the book is also a practical how-to on passing the Teams Administrator certification.
'There's definitely a technique to taking the exam,' says Ben. 'It lasts about two-and-a-half hours and I've included lots of tips for how to navigate your way through it. For instance, where you're unsure, there are some questions where you can flag it, and go forward a few questions to one that cross references the subject matter. Then you can go back and answer with confidence.'
As well as the pitfalls and challenges that can be avoided, there are true/false flashcards and multiple-choice test questions where both correct and incorrect answers are fully explained.
'This was important,' says Ben. 'It's not just about remembering the right answer. Understanding why something won't work can be as important as knowing how it will.'

Where is it available?
MCA Microsoft 365 Certified Teams Administrator Study Guide is out now and available from all good bookstores including Waterstones and Bookshop.org