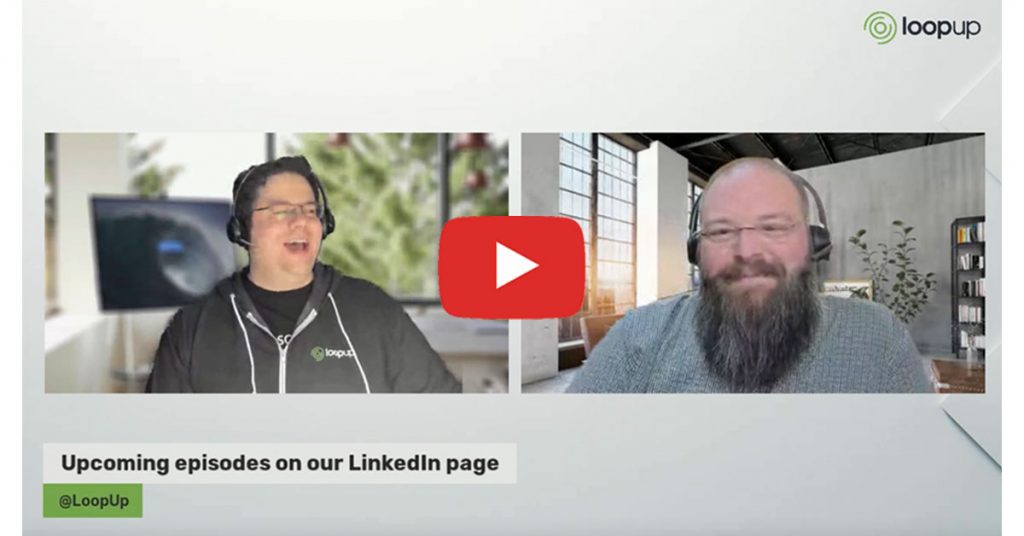 LoopUp Live: Talking Teams is a live webcast series, taking place via LinkedIn to look at how businesses can migrate their enterprise telephony to Microsoft Teams Calling and the best practices to support their journey.
In our first episode, our host Ben Lee LoopUp's Microsoft Technology Lead, spoke with Graham Cropley, LoopUp's Global Head of Consulting about what Teams Calling is and how to decide if it's the right option for your organisation. Together they offered some practical advice about how businesses can migrate their enterprise telephony to Teams Calling.

Join upcoming webcasts
Our next webcast takes place on Thursday 29th August at 4pm BST / 8am PST and looks at Direct Routing, Operator Connect and Calling Plans, exploring the pros and cons for businesses. In this episode, Ben will be speaking to Jason Sloan LoopUp's Senior Director. Together they will cover:
How Calling Plans differ from Direct Routing
When you might choose one over the other
An introduction to operator-connect
How Direct Routing can provide flexibility for deployment options and integrations
Cost considerations of Calling Plans vs Direct Routing solutions
Click here to register.


Transcript
Ben Lee:
Hello and welcome to LoopUp Live: Talking Teams. This is episode number one. My name is Ben Lee. I'm the Microsoft Consulting Lead over at LoopUp. And today I'm joined by Graham Cropley. Graham, do you want to give us a quick 30 seconds on who you are and what you do?
Graham Cropley:
I'm the Global Head of Consulting over here at LoopUp. I have spent the last 10 or so years, without giving away my age, in the Microsoft UC space specifically, and before that more broad Microsoft.
Ben Lee:
Very good. Is this where I can now say that I've done over 10 years of Microsoft UC experience?
Graham Cropley:
You can.
Ben Lee:
So like I said, thank you for joining us today. The idea is that this is going to be a regular series once a month, where we talk about different aspects relating to Teams, and more specifically around Teams telephony, because that's the area that we work in.
Ben Lee:
And we thought that as a starting point, today we will be talking about why should you replace your enterprise telephony with Microsoft Teams Calling? So I guess, as a starting point, this is meant to be a fairly open, honest, reasonable discussion between myself and the guest speaker, which today, is obviously filling those shoes, Graham, around the point in question.
Ben Lee:
So let's go for it Graham. How would you put Microsoft Teams Calling in a nutshell? How would you describe that?
Graham Cropley:
In a nutshell, it's calling in Teams.
Graham Cropley:
I think one of the big topics is trying to understanding what it actually means? We get quite a lot of customers thinking that telephony has to be separate or it's part of it, but not quite sure what it means.
Graham Cropley:
So it's just kind of extending the usual features you have of Teams. You can call people, you can talk to people, you can also call them via their phone number, rather than just their name.
Ben Lee:
And I guess this is one of the sort of traditional Microsoft complexities, isn't it? What's in a name? Because when we talk about Microsoft Teams Calling, are we talking about enterprise voices that used to be in the Skype for Business Online days, which was telephony specifically inside Teams, or with Teams when you're doing calling, that could be voice and video call on a meeting, that could be a one-to-one voice, that could be multi-party calling features. It could be telephony, or even it could be telephony into a meeting.
Ben Lee:
So I guess for our purposes here, we are talking about telephony inside Teams, right? So that's the ability to make and receive a phone call from your Teams clients to a standard phone around the world. And I guess when you think about it, in the IT industry, there's many, many different worldwide variances and discrepancies in technologies that all have their own thing, but one thing that's fairly ubiquitous is the telephony network around the world.
Ben Lee:
And that's one of the new things about adding calling into Teams, is that broadens up your reach of all your communications to anybody with a phone number potentially, right?
Graham Cropley:
Especially with how things have gone over the past, well, 18-19 months now, but also longer from a general modern workplace initiatives a lot of companies are going through. Teams is sort of first and foremost, on the desktop as their, not just communications, but also collaboration tool.
Graham Cropley:
So it kind of goes in line and hand-in-hand with either Unified Communications or intelligent communications, as Microsoft tried a few years ago. Anything brings it all together into one experience, just helps you just get on with your job really, and not worry about which tool, which device, which phone number, which name at all.
Ben Lee:
And is that why you would sort of call telephony inside Teams kind of, is that part of what makes it a Unified Communications product? It's more than that to me. Obviously, there's the collaboration aspects, but it's that unified piece of it, is your internal calling, your external facing meetings, your telephony calling, all of that sort of stuff bundled into one package, right?
Graham Cropley:
Absolutely, yeah. And it helps that sort of seamless experience, going from a one-to-one call with someone that's dialed in, to adding colleagues in and escalating, and doing all those usual things. Rather than having two separate systems that don't necessarily integrate, it's one platform for your communications and collaboration. You can trademark that.
Ben Lee:
So if you were a business that's… Like you said, a lot of companies have been considering or investing in Teams over the last 18 months, two years or so. What's the primary benefits of them, or what's the main reason they should be considering, do you think, looking at adding telephony into that as well?
Graham Cropley:
Well, it's different for a lot of different companies and different reasons, and different journey of their Cloud strategy, and so on. I think one of the main things is that PSTN usage is going down. People are working from home, they've got more UC abilities but it's not going away.
Graham Cropley:
You can't even imagine a company these days that doesn't have a phone number. I know some broadband providers try to [crosstalk 00:04:50] services and help desk, but you need to talk to people, whether they're customers or clients, or B2B, B2C. So telephony is just important, it's part of your communications.
Graham Cropley:
So to have a tool that can also do it as well, means you don't have to maintain separate estates or disparate systems across different countries, with different connectivity types. It comes back to that unifying it into one.
Ben Lee:
Yeah. And I guess that, to me, that's one of the main benefits, is there's a ubiquity to Teams that we haven't had with this Microsoft UC stack previously, with Skype and Lync, etc. Teams, the one thing is that it was architected from the ground up to allow you to do what you need to do from anywhere.
Ben Lee:
So the mobile client is excellent. There's full support on Mac and Windows, and Linux. There's a variety of different hardware devices for your meeting rooms, for your personal spaces. There's even kind of crazy little bits of hardware, like this little thing that'll act as like a personal… like a PA type device, telling you what your next appointments, and let people leave you notes. And all of those devices, I suppose, it doesn't matter where you are.
Ben Lee:
As long as you can access Teams and sign into Teams, if you've got your telephony correctly configured and set up alongside that, you can make and receive phone calls to your phone number, to any phone number, from any device. It's not like it only works on phones or a desktop PC, or anything like that. It's anywhere that you sign into Teams, you can do it.
Ben Lee:
And I guess also, one thing when we do demos for customers, quite often they have used Teams Meetings. They've used Teams Calling, like Teams one-to-one Calling. So when you're showing people how telephony works in Teams, there's a simplicity to it. It's exactly the same as you would have done before. It's the same, it's just instead of typing someone's name in, you're typing a phone number in, and then you're calling them and all the controls across the top, the mutes.
Ben Lee:
There's a few telephony specific things in there, like being able to do delegates in a particular way, or being able to transfer a call, [crosstalk 00:06:53] Yeah, the dial pad, exactly. But the interface is the same as you have. So there's an element of consistency across everything as well, which I find quite neat.
Graham Cropley:
Yeah. And coming back slightly to the device conversation. There is a fantastic ecosystem and multiple vendors out there, they're all making devices specifically for Teams. So there's a lot of unique scenarios that are catered for and yeah, good choice out there too.
Ben Lee:
Yeah, that sounds amazing Graham. What might be some of the problems that you would have doing that deployment? Are there are any downsides to putting all your eggs in one basket, if you like, by going all in with telephony alongside Teams?
Graham Cropley:
There are challenges with every kind of technology. I think the biggest one is probably understanding what you have today. So whether it's an old, dusty PBX in the corner of an office, the brown beige box that hasn't been touched for years because it just works, it just sits there.
Graham Cropley:
Just probably thinking about all… Depending on my internet connection, which is much more forefront in people's minds today because they're working from home in the first place. But yeah, going back to the point that the understanding of what they have, what they use and what they need.
Graham Cropley:
So one of the pitfalls a lot of customers will try and find themselves in, is trying to compare features. And one of the things I often say is, "Why are you looking to spend loads of money around this project, to have exactly what you had before? Take this opportunity to use the different way that Teams will actually work, and the different ways you can configure the systems to work how you need to," which has also changed over the past 15, 20 years, I'm sure.
Graham Cropley:
So it's understanding what you've got, what you actually need is the tricky part. And then [crosstalk 00:08:26]
Ben Lee:
Back to the root business process or the root business requirement. An example there, I guess, is something like a Teams-based telephony solution, there's presence, it can be part of that. So you can do stuff based on whether you're there or busy, or in a meeting, or something else. As opposed to just your phone as completely independent from your PC.
Ben Lee:
And I guess one of the thingsthere I see quite often, I'm sure you have the same, is it's to do with hunt groups. The idea that with the traditional PBX, I could see that someone wasn't sat at that desk. I wanted to pick their phone up because I knew they'd gone on a break, and they were in the kitchen, or whatever it may be. And so, you dial the number on the keypad on the phone, and you can pull that call over to you.
Ben Lee:
But that scenario doesn't quite work inside Teams because, yes, okay, I might've gone for a break and I might choose not to answer my call if that also rings through on my mobile phone. But it might be that I'm working from home for the day instead, and my phone numbers just come with me, there's nothing that I've had to do. It's just… It's there. Or I might be driving to something else, and it'll appear via Bluetooth into my car kits and be connected.
Ben Lee:
So there are ways that you can architect the ability to pick up someone else's call if they're not able to answer it. But actually, you're more likely for the person to be in control. They have the options and the flexibility to decide how their calls are dealt with, right?
Graham Cropley:
A great way to put that is back in the day, if I can say that, you used to hear someone else's phone ring across the office, so you could look over and they're not there. So you could dial a little *42 code or whatever it is on your phone system, to pick up their call because you heard it ring.
Graham Cropley:
And that's almost like a completely foreign concept now of, well, who's in the same office to hear their phone ring in the first place? There's more advanced ways of handling calls or reaching to the right person that is available to take the call, rather than the old method.
Graham Cropley:
So it's just a different way of thinking. So that's probably the biggest challenge, understand what you've got, how it maps to the technology and how you can take advantage of it.
Graham Cropley:
There are other issues with that, and in terms of different locations, different sites, different PBXs, or different systems, it's difficult to have a consistent view of what you do actually have…
Graham Cropley:
Even if you know and can find out, and then there's the carrier side. You might have multiple different carriers that charge in a different way. So if you're looking at it from a financial TCO or ROI view, it's very difficult to find the benefits if you don't know what you've got, if that makes sense.
Ben Lee:
So basically, you're saying that you would be able to sort of consolidate your phone systems or a common platform call, which you might not have had in the past. You might've had some Siemens, some Avaya, some Cisco, and it depends. Okay.
Ben Lee:
So I guess this flows into the question of what's the main thing that you should consider when you're looking at replacing your existing PBX? So you've already kind of checked off, look at the requirements, not necessarily the feature functionality set specifically. Are there any other major things that you should consider?
Graham Cropley:
Yeah. We could talk about trading and adoption, talk about device profiling, room profiling. There's, dare I say, fax machines and other non-voice elements. Oh, no, I've done it now.
Ben Lee:
What's the problem with fax machines? What's the issue there?
Graham Cropley:
Well, Teams is a voice and communications platform, and fax isn't people talking to each other, so things like fax machines, franco machines, modems, or machine controls, those sorts of things that happen to use the old PSTN network for their digital data transmission, kind of doesn't equate to Teams, and most Cloud-based PBXs are voice-centric.
Ben Lee:
So does that mean you couldn't support those things at all? If a company went to Teams, you would have to entirely get rid of them, or are there things that you can do there?
Graham Cropley:
Well, I have my personal opinion on fax machines, but unfortunately, people still require them. Yeah, there's a lot we can do. So more specifically, around the Direct Routing method of getting telephony into Teams, where you're using SBCs or a partner hosted solution. You can use those SBCs to integrate with anything you may have, which could be fax machines as a possibility, but also gates and barrier entry systems, or security phones, or ruggedized handsets on the outside of the building for emergency uses.
Graham Cropley:
Yeah, lots of those reasons you can integrate with the telephony solution. It doesn't have to be native Teams, the SBC and the attached devices are part of your voice network. It's powered by Teams, ultimately.
Ben Lee:
Okay. So, I guess we've talked a little bit about the why? And what about the how? What is it you do to go about getting telephony inside your Teams plan? There's two basic options, right? And this is one of the things we'll talk about in more detail on the next event, but there's calling plans, which is you take your numbers from Microsoft, or you port your numbers to Microsoft. But essentially, they become your carrier, and there are pros and cons between that and Direct Routing. And Direct Routing is the method where you have some form of SBC, and that SBC deals with your carriers and your connections, and the connection to Teams.
Ben Lee:
But it sounds like there are ways that you can design and architect a solution so that you can overcome some of those physical kinds of challenges. And potentially that actually is part of maybe a digital overhaul for a company with modern working and the other rest of the M365 suite, that maybe you can look to kind of mitigate the requirement for those things in your deployment.
Graham Cropley:
Yeah. I think with Calling Plans, obviously, there's a limited number of countries that are available and there're more countries in the world where telephony obviously, is used. But one of the best things is you can have a mix. So you can have some users with Calling Plans where it makes sense.
Graham Cropley:
You can have some countries Direct Routed, and other countries with a different provider handling that Direct Routing. They could all work seamlessly together. [crosstalk 00:14:15] Sorry, go ahead.
Ben Lee:
I'm sorry. I was going to say, and what about things like legal requirements such as telephony ingress or call processing, or particularly 911 regulations in the States around emergency call handling? Is that something that Teams telephony supports? Does that matter which platform you go for, as to how that works?
Graham Cropley:
Yeah, it does. So it's a split responsibility in terms of the regulation side. So obviously, Teams doesn't necessarily know where you are as a user. So your company and your user self has a legal obligation to make sure that you're not contravening any of those rules, but Teams can help. So there is such a thing for location-based rooting in Teams that will help you configure a way to prevent toll bypass.
Graham Cropley:
So that's something you can do. And also, with SBCs, where calls have to address the addressing country, you can use the SBC in-country with a local carrier or provider to do that, which means it's not processed elsewhere. There are still some other caveats in certain countries, it's probably a lot more to do [inaudible 00:15:13] The other one was emergency calling, I think you mentioned?
Ben Lee:
Yes. I was going to say, specifically like the US have some very strict rules there. Does Teams meet those or does it exceed them? There's a lot of companies that have it deployed, so I'm assuming it must, at least… Well, I know it meets them.
Graham Cropley:
I think that's a leading question. Yeah, it definitely meets our next needs. So for America specifically, there's E911, Enhanced 911, which is a way to transfer the location of the caller at the point of call, to the emergency services so they know where they are.
Graham Cropley:
So all the things we talked about before, about working from home and other benefits from Teams and UC platforms to be really flexible. If your number is tied to an office that you've probably never been in since you started your job, it's not much point using that to dial emergency services, and they turn to the wrong address and things go bad.
Graham Cropley:
So Teams will let you configure site information so that it will automatically know which subnet you're on, which office you're in, which floor you're in, which part of the building you're in, with pre-defined labels. So that can be passed straight through to the carrier.
Graham Cropley:
And then emergency services know exactly where you are. I believe that regulation comes in force January next year. So people should get ready for that and make sure those locations are added into Teams and configure [crosstalk 00:16:25]
Ben Lee:
There's also functionality in there where you can have emergency calling policies. So things like when a defined set of numbers that you say are emergency numbers. So it could be in your US 911 deployment. You can also specify the 999, or any other numbers, so that people from other countries, if they accidentally dial an emergency number from their country, will still dial out wherever they are.
Ben Lee:
But back to the point, is there's support in there for things like notifications, so that when a user dials an emergency number, building security could be notified, or even building security can be conferenced into the call. It can convert it into a conference meeting and have them able to participate in the call, or just be on standby. And you can then generate IM alerts or email alerts to notify that, that's been done. So there are a fair few layers there to help meet those different regulations around the world.
Ben Lee:
And again, most of that is sort of platform independent, that stuff that happens at a Teams layer, regardless of the delivery underneath.
Graham Cropley:
The benefit is you can do that in any country. So it doesn't have to just be America for that. If you want your security desk to be notified when someone calls emergency services for a campus or a large warehouse facility in any other country, that can also be configured in Teams.
Ben Lee:
So in your time doing this, what would you say is the biggest pitfall, or the most common pitfall or mistake that people make when they go to deploy Teams Calling?
Graham Cropley:
It's probably not understanding what they need. So communications to end-users, understanding what the change is, looking at that whole sort of adoption change management piece around the change. It may seem trivial that rather than pick up a phone and dial a number, you use your Teams client and dial a number.
Graham Cropley:
But there's a lot of those nuances that old PBXs had, such as extension dialing. Now, the benefit is Teams, you don't have to remember a list of extensions. You just find the name, see the name, click on it, and it works.
Graham Cropley:
But if users aren't told that, and they always dial 111 for particular reception, or something, that may change for them. So understanding the impact to the end-users, making sure there's information available to them.
Graham Cropley:
There's lots of different ways of training, you don't have to sit in a classroom to figure out how to use Teams. It is a familiar enough interface to use. [crosstalk 00:18:38].
Ben Lee:
Well, and there's enough people who've been kind of forced into it by being dumped at home during recent times, what with one thing and another, and have picked it up. But that doesn't mean that people necessarily get the most value out of it, or use it in the best way, right?
Graham Cropley:
There was a poll, a little while ago, it was what was the biggest driver for your business to adopt a modern workplace strategy? So yeah, needless to say.
Ben Lee:
I guess just picking up your point about extension dialing, again, that's something that Teams is able to support. But it's something that, if you're doing this kind of an upgrade and a consolidation of your telephony to a more modern platform, for lack of a better word, but do you want to carry that legacy configuration over? Because once you've got it configured and set up, someone needs to maintain it. It has to become part of your adds, moves, changes, and your ongoing business process to make sure that those extensions don't get out of sync with what they're meant to be, et cetera.
Graham Cropley:
Yeah. There's better ways to work essentially, that's right.
Ben Lee:
Yeah. So there's another question coming here. And I wonder if this is something along the lines of a similar answer to fax machines. What about contact center requirements? Because quite often they can go hand-in-hand with a company's PBX, that they used to have a contact center to support some element. Is that something that you can support with Teams?
Graham Cropley:
Yeah, absolutely. And as always, with a consulting mode, it depends. There're lots of variations you can do. Whereas some vendors have their own contact center, is built and it is what it is, the way that Microsoft Teams and Stripe and Lync before have always worked, is to build that partner ecosystem around all the different vendors to make their own solutions that add on and take advantage of the actual platform itself.
Graham Cropley:
So as we said at the start, Teams is a lot of things, and even Teams Voice is quite a lot of things, which could be recording, it could be contact centers, it could be attended consults, receptionists. It could be analytics on kind of call queues and wait times, and things.
Graham Cropley:
So with contact center specifically, there is a program that defines three categories to connect. There's one called Connect, then there's Extend, and then there's Power. So Microsoft, as they develop more APIs in the future, will get more ways for these vendors to integrate, but right now, you can have a contact center that certify for Teams, it fully supports Direct Routing.
Graham Cropley:
So your agents could be sitting in Teams and receive calls that are configured by a third party.
Graham Cropley:
And there're many vendors out there that offer to provide that service.
Ben Lee:
And then also, I was going to say, don't forget there's the native functionality in Teams itself. There's the auto attendance and call queues where auto attendance let you specify business hours and call flows, like press one for sales, press two for support, and call queues are when a call hits these group of people, call them in this particular way.
Ben Lee:
And that's starting to get deeper integration into Teams, and that can ring into a channel where you have a preexisting group of people. People can see the history of the calls, what's been answered, when voicemails have been left, so people know that they can deal with them.
Ben Lee:
And I guess, the neat thing for me, partly with this and one that I know customers kind of appreciate is that, that's part of the standard Teams license. There's not an extra fee or charge. Now, there are some things there around resource accounts and it depends how many you've got. And we all know Microsoft licensing isn't necessarily the neatest thing in the world, but we can understand them. We can help people figure that out, but there is a bunch of functionality that will out-the-box meet most businesses, kind of key reception type functionality, or slightly more basic workflows without having to go down a full third party integrated contact center, right?
Graham Cropley:
Yeah, and that might be my fault for jumping to contact center straight away.
Ben Lee:
That's okay.
Graham Cropley:
When they used to be said those words, call center or contact center, you immediately think of live wallboards and supervisor listening, and [inaudible 00:22:21] functionality, those things that are true contact center features. But you're absolutely right, Teams has got abilities to have very customizable call flows, they have time of day rooting, holiday hours.
Graham Cropley:
Essentially, I'm repeating what you said about a minute ago now, but that can be configured in a way that will deal with maybe quite a lot of scenarios. If it's an internal department, a help desk HR account, something like that, then it's more than cover it. [crosstalk 00:22:43]
Ben Lee:
So kind of before we start wrapping up, I guess, just back to the point, because I didn't get to have my say on the key pitfalls. So to me, one of the things is around networking. Teams has very simple and yet very detailed networking requirements to make sure that it's working correctly.
Ben Lee:
And it's kind of like… Sorry, I say this quite frequently. It's like that scene in Jurassic Park where nature finds a way. Teams will generally find a way of connecting to whatever it needs to connect to, but it doesn't mean that it's doing it in an optimal format or an optimal way.
Ben Lee:
And quite often, you see companies who think they've gone through the process of opening the right ports and protocols, and then that's it, that's all they need to do to make sure their network is suitable for Teams.
Ben Lee:
But there are some other things you should look out around VPN local breakout, particularly for end-user VPNs, or local DNS resolution and path proxies, SSL inspection, all of those types of things that kind of help. And there's some really good tooling in Teams or things like CQD and the advanced call diagnostics, that you look at what happens during a call and identify where there might be a problem, and even proactively get on top of problems before things go crazy.
Graham Cropley:
Going back to that networking point, Microsoft do publish the Microsoft 365 network connectivity principles, and that's quite a good guiding set of principles to connect efficiently and track these Office 365. If you're doing that as part of a business for exchange or SharePoint or anything else that you host in the Cloud, you're probably most of the way there, but there are quite some specific things around the real-time media element that is more susceptible to things like inspection or proxying, or different configurations of hairpinning through a data center. That's something like hub-and-spoke scenarios.
Graham Cropley:
So it's good to understand how it will actually work. And as you say, Teams will find a way, but maybe you'll put an extra strain on part of your network that doesn't need to be used for that scenario.
Ben Lee:
Yeah. So I guess just pulling it back to the, "Why should you replace your enterprise telephony with Teams?" To me, in summary, the key thing is flexibility. You get a lot of flexibility about how you decide to take a call, what happens when a call comes to you, with things like Call Routing, with things like delegates, with things like Team Group Calling. So I can make sure that on a particular day, Graham receives my calls when I know that I'm skiving or having a bad day, whatever it may be.
Ben Lee:
There's flexibility to the end-user, but then from a central administrative point of view, there's flexibility because you're potentially consolidating all of your different PBXs to one core platform, using a common set of tooling, there's a common set of training that you can provide.
Ben Lee:
That there's a whole bunch of kind of benefits of consolidating that stuff. And if you're already using Teams, you're already paying for most of this functionality, right? The only extra thing you need to buy is the capability to do calling, and then some form of minutes. And that's either you're calling plans, all that, going through partner providers, or some form of other carriers to do that.
Graham Cropley:
Yeah. Talking about licensing, which I know everyone loves to talk about, tying sort of these sort of strategies together, you've got things like identity security, you've got device management, compliance and governance requirements from throughout the business. All those things may go to a business case that talks about an E5 license for example.
Graham Cropley:
And then you'll find that other parts of your business have already made your business case for you to get that phone system add-on, as part of the E5. So it's not just about telephony, it's so much of the ecosystem. There's a lot of things that can link together to kind of make the whole more than the sum of its parts, to use an overused expression. So yeah, that's a benefit, I would say.
Ben Lee:
Good stuff. Great. Well, I think we'll sort of draw that to a close at this point, I think. It's worth saying that our next event is on the 26th of August. So if anybody has any particular questions or areas that they'd like us to talk about or address, feel free to leave us some comments on our LinkedIn pages.
Ben Lee:
The topic is going to be around Calling Plans versus Direct Routing. Calling Plans being the Microsoft license provided variants of calling and Direct Routing, where you have those gateways and some form of integration to a carrier. And there's a subdivision of that, where you can have that as a service from a partner, or you can run that yourselves, and there're pros and cons to all of those things.
Ben Lee:
But also, if there's any further topics around networking or other bits and pieces that we can take a little bit of a slightly lift the hood and go a bit deeper, then do feel free to let us know.
Ben Lee:
So Graham, unless there's anything else, I think we're done and goodbye from me.
Graham Cropley:
I think the only final thing is that if anyone needs any help, advice or guidance, you can always reach out and we can point you in the right direction, definitely.
Ben Lee:
Good stuff. All right. Well, thank you for sticking with us to the end and we'll catch you next time. Thank you very much.
Graham Cropley:
Thank you.