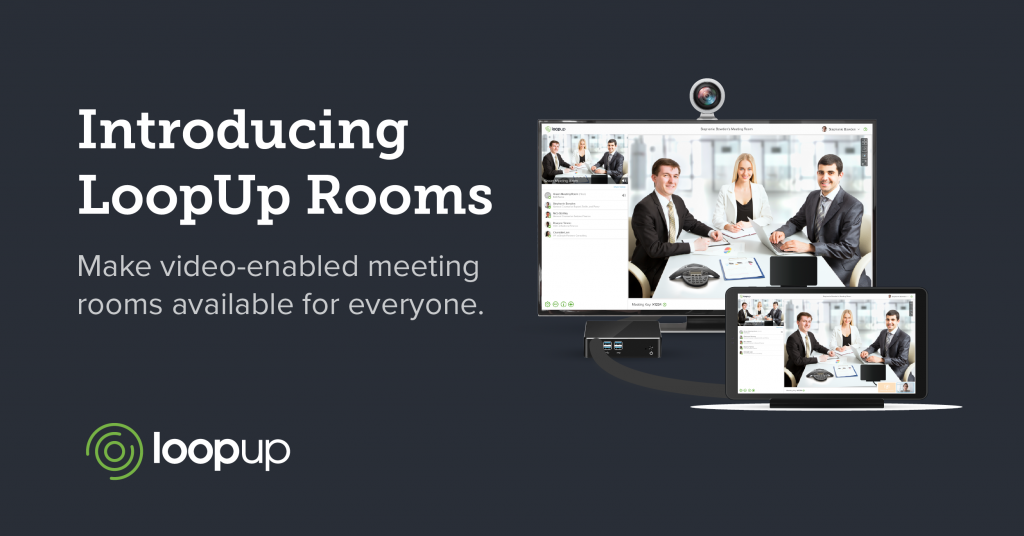 LoopUp is excited to announce the launch of LoopUp Rooms. LoopUp Rooms combines our best-in-class remote meeting solution with off-the-shelf hardware to create simple and accessible video conferencing suites for businesses around the world.
A growing need for video conferencing rooms
As more organisations move towards permanent remote and hybrid working, many are looking to equip their meeting rooms with technology that allows their employees to communicate effectively with customers and colleagues, regardless of location.
Video conferencing suites can enhance your office meeting rooms but until recently, they were expensive to install, inaccessible to most employees and complex to use.
LoopUp Rooms is different
We offer a competitively priced, plug-and-play solution that transforms your regular meeting rooms into video-enabled rooms that are simple to set up and use.
A LoopUp Room requires a display screen, a high-quality camera, a mini-PC, a touchscreen controller and a conference room phone. Businesses that have an existing display screens and speaker phones in their meeting rooms can purchase the off-the-shelf hardware for as little as $1,400 (£1,200) per room. Unlike other providers, LoopUp doesn't charge ongoing licence fees and a LoopUp Room can be set up in a matter of minutes.
How does a LoopUp Room work?
Users can join a LoopUp meeting with one touch from a touchscreen controller. The meeting interface and any content being shared will be visible on the room's display screen.
Audio will be carried over regular phone lines for increased reliability and accessed via the conference room phone.
A LoopUp Room can be reserved directly from a user's Outlook calendar. Their meeting will automatically be added to the touchscreen controller in that room for easy joining.
Access to all of LoopUp's features
With LoopUp Rooms, users will have access to all of LoopUp's remote meeting features – they can view all meeting attendees, add or remove guests, mute participants and share their video or screen with one-click.
Set up your LoopUp Room today!
To find out more about LoopUp Rooms, contact our sales team or visit our webpage.