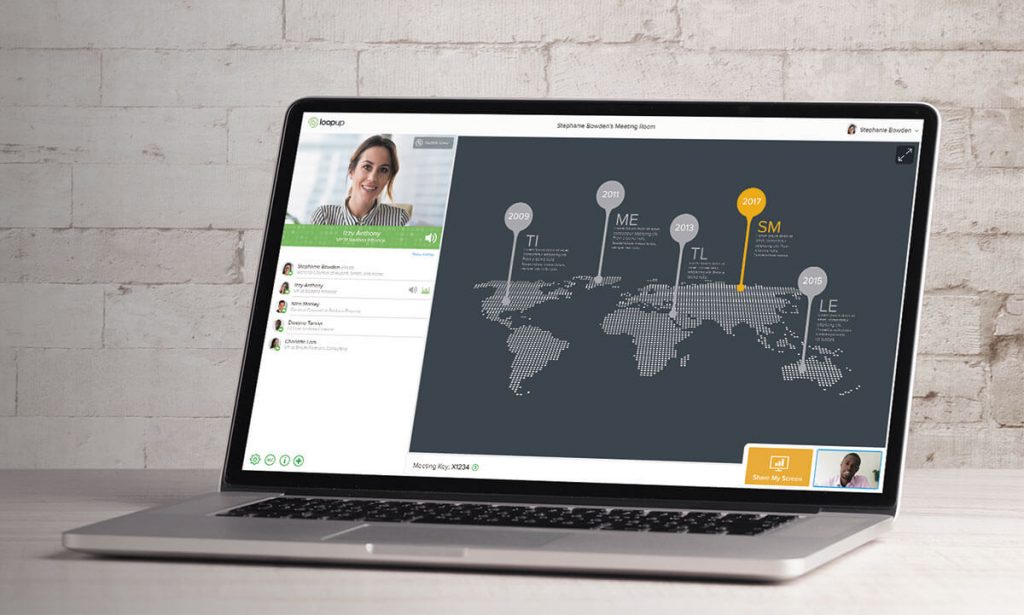 Over the past few decades, conference calls have become central to the way that companies do business. According to Gartner, 40% of workplace meetings currently take place remotely, and that figure is expected to rise to 75% by 2024. With so much of our precious time being spent on conference calls, it's crucial that they are efficient. No one has time to waste figuring out how to join or host a conference call – they just need something that works, first time around, without any mess.
With this in mind, we designed our solution with simplicity at the core. Whether you're joining a LoopUp meeting for the first time or scheduling and hosting a meeting, LoopUp is designed to keep your meetings as efficient and productive as possible. So that's why we have compiled a list of our top five LoopUp game changers that you may not be aware of. Whether you're new to LoopUp or a conferencing pro, these features are guaranteed to transform your LoopUp experience.

1. Click to Join for a Better Meeting Experience
For too long, people have dialed in to meetings with numbers and access codes. Not only can it be cumbersome scrabbling around for PINs and frustrating when they're entered incorrectly, but dial-in leads to a 'black box' meeting experience. With no way of seeing who else is on the call or who's speaking, it's no surprise that more than 15 minutes is wasted on the typical dial-in conference call getting started and dealing with distractions. Fortunately, dial-in is no longer a necessity, and today there are ways around this.
With LoopUp, there's no need to scramble for dial-in numbers and access codes. And the best part? LoopUp calls you! All a meeting guest needs to do is click the link in the meeting invite, enter their name and number and LoopUp will dial out to a phone of their choice. Once you've joined a LoopUp meeting, you'll have full visibility so you can see who's joined and a speaker icon lets you know who's speaking at all times. That's better!
2. Share Video When the Time is Right
Initiating video on your conference call can add a lot of value. This is especially true in those meetings where facial expressions and body language play an important part (group presentations, interviews and board meetings, for example). By adding video you change the entire feel of the meeting – increasing engagement and removing any distance between guests. But when used in the wrong scenario, video can be unproductive. Each participant should feel equally represented and present in a video meeting. But if, for instance, you're on the move or listening in and would prefer to mulitask (in a webinar or large meeting for example), then video can be a hinderance.
It's also inappropriate to force your guests onto video while they're still figuring out how to join the call. Many conferencing solutions are 'video first' which might sound appealing, but when a guest is forced onto camera before they've even figured out how to join the audio part, it can be unsettling to say the least. Make your guests feel more comfortable by guiding them onto an audio call, before offering to introduce video in situations where it would add value.
A LoopUp meeting will always lead with the audio piece, and video can be added into the call with just one click. This can only be done at the host's discretion, if they feel it would be beneficial. At this point, guests are also offered the option to turn their cameras on too if appropriate (and desired).
3. Call Start Alerts So You Never Miss Another Meeting
Doesn't it always feel like time is running away from you? If your schedule is jam-packed and you're swamped with projects, it's easy to lose track of your meeting schedule. Fortunately, LoopUp has an awesome feature that will ensure you're never late to a conference call again.
When your first guest joins your meeting, you'll receive an alert to your desktop and mobile device letting you know your meeting has started. Simply click on the notification get a full view of who's on the call. If you're on the move, swipe the mobile alert to open our mobile app for the same view.
Not in the mood for small talk with Barry today? Prefer to wait until Carl joins before you get started? No problem. Just continue to monitor the call from either device, and when you're ready it's just one click to join the meeting.
4. Create Multiple Meeting Rooms to Avoid Overlaps
Back-to-back conference calls can be stressful. Not only can they leave you without time to prepare, but there's also a chance that the first one could run over into the second. And when it comes to online meetings, you can't risk meeting clashes.
Picture this: you're hosting a call to discuss your client's financial results at 2pm, but at 3pm you have a meeting scheduled with a rival business. It's 2:55pm and unfortunately, your first meeting is overrunning and there's no way to cut it short now, so the competitor company unknowingly gatecrash your conference call when they join at 3pm, as planned, before you've had time to wrap up your current meeting. Oh dear.
Meeting overlaps are bad for a couple of reasons. Firstly – it's embarrassing! You have to stop what you're saying, awkwardly explain to the unexpected guest that they need to leave the meeting, and then ask them to re-join when you're ready. And what's worse – it's a huge security risk. When deep in conversation regarding a confidential topic, such as financials or legal matters, having another client join before you've finished is an unintentional yet easy way for sensitive information to get leaked.
LoopUp allows you to create multiple meeting rooms within your account – each with its own unique meeting link – so you'll never have to worry about your meetings overlapping again. Instead, you can schedule your 2pm call in 'Sedona Finance's Meeting Room' and the 3pm call in 'Smyth Partners Consulting's Meeting Room' so there's no chance of either guest joining the wrong call.
5. Adding Client/Matter Codes for Simplified Billing
Billing codes are a great way for firms to pass conference call charges onto their clients, but this often creates an administrative nightmare for finance teams or admins. If billing codes aren't applied before or during the meeting, then hours may be wasted weeks later trying to figure out which code to apply to each call. With LoopUp, you can set billing codes for individual 'meeting rooms' so that they are applied automatically each time a meeting is hosted in that particular room.
It's also possible to apply billing codes retroactively once the call has taken place. After every LoopUp meeting, both hosts and their assistants receive a post-call summary email that prompts them to enter a billing code. From here, they can simply assign a billing code in a couple of clicks.
In addition, the Meeting History section in your LoopUp Account provides a summary of all the meetings you have hosted in the past 90 days, and billing codes can be assigned or changed here. LoopUp meeting usage is itemised and broken down by billing code on the invoice, so it's no longer necessary to hassle the finance team or admins before charging your clients (and they can spend more time focusing on more important tasks!).
Like What You're Hearing?
If you like the sound of our game changers and think that they could help you to save time and avoid unnecessary conferencing frustrations, then we'd love to hear from you! We spend all our time helping busy professionals to connect with their clients and colleagues all around the world, and we'd hate for you to miss out. If you'd prefer to try LoopUp for yourself before discussing with a member of our team – no worries! We offer a 30-day free trial that will allow you to get to grips with the product and see the benefits for yourself. Go on – try something new!
About LoopUp
LoopUp is a premium remote meetings solution for better, more productive conference calls. For too long, businesses had to choose between the potential of web conferencing software and the simplicity and reliability of traditional audio conferencing. LoopUp combines both, transforming the way that businesses communicate. Over 5,000 organizations around the world trust LoopUp with their important remote meetings, from multinationals like Travelex, Kia Motors, Planet Hollywood, and National Geographic to fast-growing SMEs, professional services firms and public sector organizations. You'll find us in 15 global office locations, working around the clock to help companies unlock the true potential of their conference calls.