Those of you that have been following the announcements around Microsoft's Advanced Communications License for Teams know that there was some initial confusion about when this would be required. It may seem like things are a little clearer now, but while we are in a better place, the story is far from over…
The MS Docs pages for Advanced Communications license and Compliance Recording were recently updated to remove any reference to the license being required to support Contact Center / Compliance Recording integration. But as the saying goes…"absence of evidence is not evidence of absence".
Microsoft also produced an FAQ in response to the outcry from the community who were upset at the notion of requiring an additional license for this functionality. And while this has cleared up some of the previous questions, it has left the door fully open for Microsoft to reintroduce the license in the future.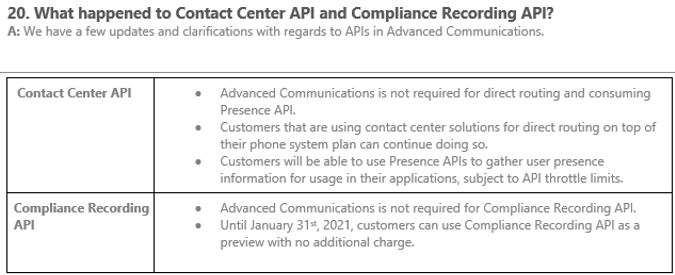 Where does this leave us?
This is good news for businesses – up to a point.
Contact Center
The new FAQs clearly state that the Advanced Communications License is not required by Contact Centers using "Direct Routing and consuming Presence API", which is the most common approach used by numerous vendors. There are two other methods of integration: "Connect and Extend" as well as "Extend and Power" that both go beyond the level of integration that vendors have available in the market today. Perhaps this is where the Advanced Communications License will be re-introduced, as products that leverage this integration come to market? As yet, this is not clear.
Compliance Recording
The FAQs also state that the Advanced Communications License is not needed for accessing Compliance Recording APIs. However, at the same time, they remind us the Compliance Recording API is still in preview, and as such, will be available 'with no additional charge' until January 31st 2021 – just a few months away. What is not clear is if this will then fall under the Advanced Communications License, or whether another method of charging for API access will be introduced after that date.
Watch this space
Microsoft does have a track record of experimenting with licensing, so it would be wise to anticipate that there will be more changes to come which customers will need to keep abreast of and plan for as far as possible. For example, Priority Notifications was initially available as a 'preview' feature and available at no additional charge until April 2020. Due to COVID-19, Microsoft extended this promotion until July 2020, before eventually announcing that the Priority Notification feature will be available within the base licensing for Teams.
The takeaway here is that such experiments may or may not work in customers' favour, in terms of what comes included in the standard Teams licensing and what are bolt-on additions at extra cost, and that what's included and what is not may change over time too.
Customers will just have to keep watching this space and we will do our best to provide updates as appropriate.
Graham Cropley is a Senior Director in LoopUp's consulting team. He has led some of the largest and most technologically complex Skype for Business and Teams projects in the world.