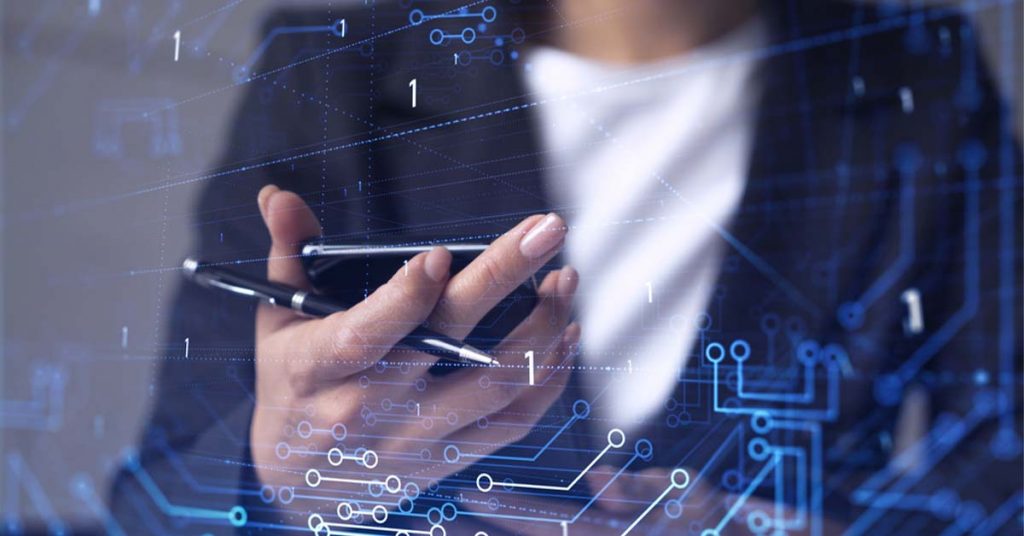 How does Phone System work?
Microsoft's Phone System allows organisations to shift away from on-premises PBX hardware to cloud-based solutions. Businesses using this technology see benefits to employee engagement, productivity and cost. This guide answers the most frequently asked questions, to help you decide if the Phone System is right for your organisation.
What is Phone System?
Microsoft's Phone System is a cloud-based unified communication platform. It allows users to make phone calls outside their organisation over the PSTN phone network.
Microsoft Phone System offers a compelling replacement for legacy phone set-ups. It gives you full PBX capabilities, without the complex and costly hardware requirements. Phone System extends the VoIP capabilities of Microsoft Teams – beyond making and receiving calls to a complete business phone system. Delivering the advantages you'd expect from a cloud environment.
Integrating with the Microsoft 365 productivity suite, Phone System also offers feature extensions that integrate with non-Microsoft products.
Another important advantage is the platform's capability to scale from a single site outfit to a global entity. It easily adapts to your telephony needs as your organisation grows. Whether that growth represents changes in the number of your employees, offices or territories. So, for global organisations, Phone System may prove an especially smart move.
Are there other names for Microsoft Phone System?
Phone System is Microsoft's name for Teams PSTN services. Other unofficial names or terms for Microsoft Phone System include the following:
Microsoft 365 Phone System
Office 365 Phone System
Teams Calling
Microsoft Teams Phone System Direct Routing
Hosted business phone system
Cloud hosted phone system
Cloud Phone System
Teams Phone
Teams Phone System
Cloud PBX
FAQs on functions
What are the core Microsoft Phone System features?
What do you get with Phone System? Microsoft Teams allows you to access a host of features for your business needs. Here are some of the functions you and your team will likely use the most:
Access from any device where you can use Teams
As long as they have internet, employees can access their full suite of Teams tools from their phone, laptop and tablets. Microsoft Phone System delivers the same enterprise level security as the rest of Microsoft 365 and Office 365 productivity suite.

End user control over their calling
Users answer inbound calls with a touch. Outbound calls are placed either by dialling the phone number or click in a name in their address book.

Phone System Features include:

Full Delegation Support – allowing employees to answer calls on behalf of their colleagues
Busy on Busy – new or incoming calls can be rejected with a busy signal
Custom Ring Tones – making it easy to know when it is your phone ringing
Caller ID – showing picture ID and job title
Do Not Disturb and Breakthrough – allowing you to block unwanted calls, while letting important callers to ring you
Call Escalation – Easily go from a 1:1 call to a group call with screen sharing, video and more




Monitoring
Detailed reports are available to help admins monitor usage and call quality from a single centralised platform


Smart / cloud voicemail
Users configure their client settings for voicemail greetings, language and call answering rules. Voicemail transcriptions are stored in your Exchange mailbox


Cloud Auto Attendants
Auto attendants direct a caller to an appropriate person or department within your organisation. Parameters for language, timezone and call time – ie: business hours, out of hours or during holidays – can also be set


Flexible transfer options
Calls can be transferred, forwarded, or parked – where others can answer with a code. Users can consult via Chat or Voice and Video


Device switching
Seamlessly switch between devices as required, even during a call
Good to know: Microsoft are constantly updating and improving the user experience. Features are being added to regularly – coming soon is the Push to Talk function.
FAQs on using Phone System
How does Phone System work?
Microsoft Phone System enables call control and PBX capabilities in the cloud with Teams and Skype for Business Online. So you can replace your enterprise's on-premises PBX with a suite of features delivered from Microsoft 365 or Office 365.
Some users may be worried that moving to the Teams Phone System means they have to invest in a shiny new headset to make or receive calls. However, Phone System users can use their mobile devices or a headset with their laptop or PC. Teams and Skype for Business Online compatible IP phone can also be utilised.
Phone System administrators can manage and configure calling options and settings from the same console used for messaging and collaboration.
What size business is best suited to Microsoft Phone System?
From SMEs to corporations, any organisation currently using Teams for collaboration will benefit from adding the Microsoft cloud telephony component. It's flexible and scalable. Users get a single unified interface for internal and external communication. For IT departments, Teams Calling eliminates complexity and cost from their operations with little incremental cost.
Can Microsoft Phone System replace your existing on-premises PBX hardware?
Yes. A cloud telephony solution like Microsoft Teams Calling gives you full PBX capabilities. Provided you have internet connection, you get all the PBX functionality. But without the drain on staff resource and the maintenance costs associated with legacy hardware.
What do I need to set up Microsoft Phone System?
To use Microsoft Phone System for external calls, you need:
Microsoft Teams + Phone System + PSTN (Calling Plan or Direct Routing from a service provider).
Assigning a Phone System license to a user follows the same steps as assigning a Microsoft 365 or Office 365 license.
Microsoft recommends that organisations looking to migrate to Phone System check the Audio Conferencing and Calling Plans availability for their region.
If Calling Plans are not available for your region, Direct Routing will connect your on-premises telephony infrastructure to Phone System.
PSTN replacement is needed to provide local inbound numbers, number porting and emergency call routing. Organisations will need full PSTN replacement for all employees in all locations. To provide PSTN replacement, an organisation must either partner with a local carrier or be registered as a local carrier themselves.
PSTN replacement is a complex task for a non-industry enterprise. IT leaders often look to a cloud telephony provider like LoopUp to successfully oversee the regulations for them.
How much is Microsoft Teams Phone System?
This depends on your starting point and the size of your organisation. Microsoft Phone System is either included or available as an add-on with most Microsoft 365 plans.
Added license available:
Microsoft 365 and Office 365 E1 and E3.
Included as part of Microsoft bundle:
Microsoft 365 E5, Office 365 E5, and Microsoft 365 Business Voice licenses.
For organisations already using Teams for collaboration, adding the telephony component makes sense.
Next steps
If you'd like to find out more about optimising your communication system, we'd love to help.
We deliver enterprise grade PSTN replacement in more locations than any other provider.
Our highly accredited team of Microsoft specialists will work with you to design, configure and implement a best-in-class solution. Microsoft Gold Partner since 2010, we have the expertise to create a solution that is bespoke to each organisation's needs.
The LoopUp management platform means IT managers have a centralised platform for administration of number management, user provisioning, invoicing and analysis.
Contact us here
Related topics: further reading
Microsoft now second biggest UCaaS provider in the world
With Teams Calling, Microsoft has taken a stratospheric leap in one of the fastest-growing technology sectors
The Microsoft Teams telephony user experience
If you're considering migrating to Microsoft Teams, you already know the benefits it can deliver for your business. But what is Teams telephony actually like to use?